Uniforms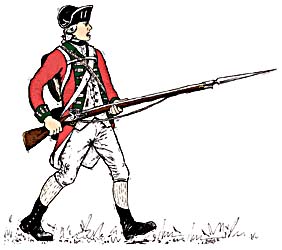 The uniform of the 55th Regiment as it would have looked during the
New York Campaign
in August of 1776 (illustration ©1997 Mark Tully).
Prior to the American War for Independence, the uniform of the 55th Regiment of Foot conformed closley to the Royal Warrant of 1768. The 1775 Inspection Returns state that the private soldiers were "... A very good body of men, not very highly dressed nor well appointed." The last comment is no surprise, as their Colonel the previous year had been William Gansel, who was apparently broke and in debtors prison. Even so, the 55th's clothing was considered to be "Very good. Of a very good length and not cut away in the length as most regiments are." This statement implies that many of the regiments were already cutting down their coats, even though it was contrary to the Royal Warrant.
The "necessaries" issued to each soldier included:
Three shirts, two white stocks, one black hair stock, one pair of brass clasps for ditto, three pair of white [wool] yarn stockings, two pair of linen socks, dipped in oil to be worn on the march; two pair of white linen gaiters, if belonging to the Guards; one pair of black long gaiters, with black leather tops for ditto; one pair of half spatterdashes, one pair of linen [under] drawers, one pair of red skirt breeches, one red cap, one cockade, one knapsack, one haversack, one pair of shoe buckles, one pair of gaiter-buckles, black leather garters, two pair of shoes, one oil bottle, one brush and picker, one worm, one turn-key, one hammer-cap, and one stopper (Smith).
In addition, the soldier was issued a set of "regimentals," which included:
a hat, coat, waistcoat, wasitcoat, breeches, breeches, shirts, stocks, shoes, stockings, spats, spatterdashes, &c (Smith).
EXCERPTS FROM INSPECTION RETURNS
9th May, 1768: Five fifers. Colours, 1767. OFFICERS -- plain scarlet, lapelled to waist with deep green; green cape; slashed sleeve with a green cuff; slashed pocket; buttons not numbered; white linings, waistcoat and breeches; gold-laced hats. MEN -- hats laced with yellow. Band of music.
Charles Fort, 1st June, 1769: OFFICERS -- Uniforms scarlet, lappeled with deep green and cuffs according to His Majesty's Regulations dated Dublin 13th, February 1769, a falling collar of the same [deep green]; gold epaulettes; cross pockets; button holes looped with a narrow gold lace; Buttons numbered; waistcoat and breeches white cloth; coat and waistcoat lined with white; hats laced with gold; uniform gilt sword and crimson and gold knots. MEN -- Hats well cocked; black spatterdashes according to order. Cloathing very well fitted and perfectly agreeable, etc.
Charles Fort, 31st May, 1775: OFFICERS -- Cuffs and lappels of deep green and same all through as description above.
2nd June, 1786: Colours 1786. Officers saluted with swords [as opposed to spontoons]. Only arrived from foreign station [The West Indies] last August.
7th May, 1787: Drums and Fifes, clothing very showy. The capes made higher than usual. MEN -- red feathers in their hats. The C.O. has made good foraging-caps out of the old pouches.
(Sources: Public Records Office, War Office Papers 27/35; Strachan, p 241; Lefferts, p 200, Smith, pp 193 and 223)
>This page and it's links are intended strictly as a research source.
Some of the content of this page may be copyrighted and should not be published without permission.
For More information, contact Mark Tully