Regimental Designations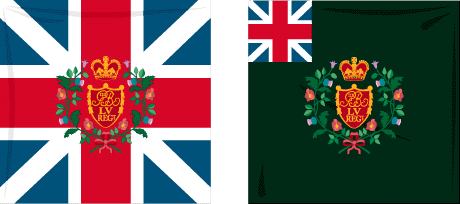 King's Colour (left) and Regimental Colour (right).
A total of five complete stands of colours survive for the 55th Regiment, dating from between 1759 and 1888. The pair shown here date from 1759-1801 and were probably used while the Regiment was in America and the West Indies (1776-1784). There is no record of them being presented to the Regiment, but the basic style is consistent with the Royal Warrant of 1768 with the exception of the Royal cypher and crown, which are not usually found on colours of this period. The designs are painted onto the silk, and bear the mottos "St. Lucia" and "Brandywine-Egmont" as battle honours (honours not shown).
This pair of colours was discovered in a pawn shop by Lord Archibald Campbell in 1888. Lord Campbell promptly returned them to the regiment and they now reside in the Parish Church in Kendal. The complete story of these and the other four sets of colours can be found in the Journal of the Society of Army Historical Research, #42, 1964, p 47.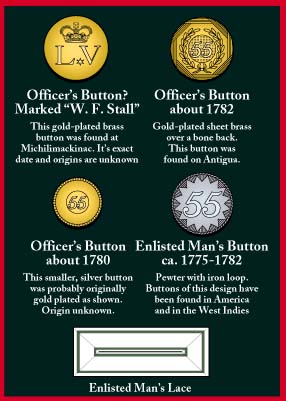 Regimental Buttons and Lace
Regimental buttons for the 55th Regiment are quite rare and only a very few have been found. The private's button was found by Calver and Bolton at the site of Fort Izzard on Staten Island, and others were found at Antigua in the West Indies. The top left button's origins are unknown, as to anyone's knowledge no officer of the 55th was at Michilimackinac during the American Revolution. The "LV" may not be a Roman numeral, but initials -- perhaps denoting "Loyal Volunteers" or some such. The officer's button at upper right was found in the West Indies, as was the small, waistcoat-sized button shown at lower left. The latter is of silver, but probably originally had gold plating as directed by the Royal Warrant of 1768.
According to the Warrants, the regimental lace was to have "two green stripes", and the illustration shown here is based on a surviving sample in the Scottish United Services Museum in Edinburgh, Scotland. The Regimental facing color was dark, or "Kendal" green.
This page and it's links are intended strictly as a research source.
All contents of this page are © 1997 Mark Tully and/or the 55th Regiment of Foot.
For More information, contact Mark Tully